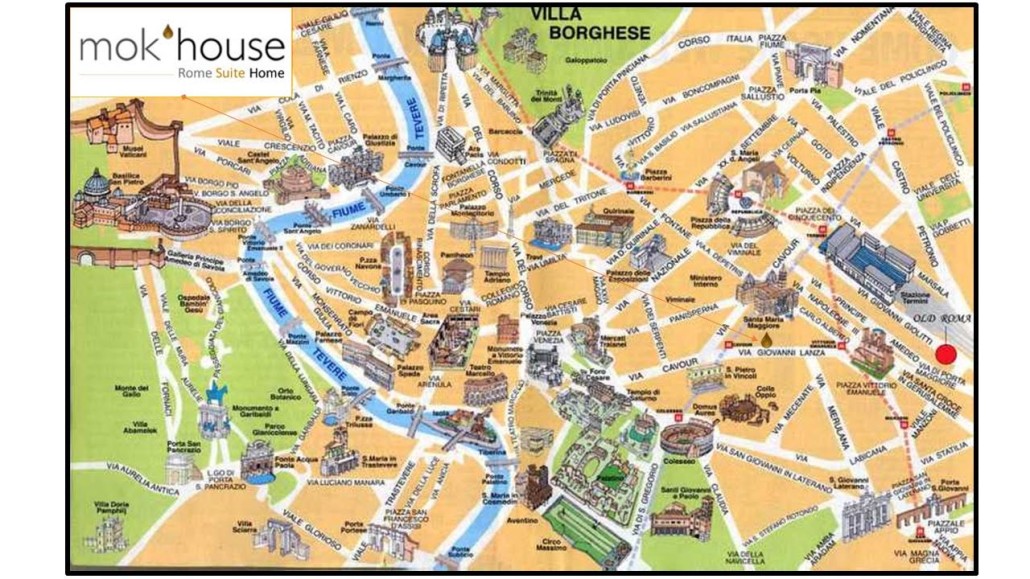 mok'house is perfectly located for those who want to explore Rome without having to deal with public transportation. Our building (owned) is only 10 minutes walking from both the Coliseum and the Termini Train Station. From here you can easily walk (within 20-30 minutes) to all main sightseeing, while still having all the options available (bus, metro, taxi, hop-on/off busses) within 2 minutes walking.
We are in Via San Martino ai Monti, 38, in the heart of Rome. Our neighborhood, the so called Rione Monti, is a true gem to be discovered day by day.
Despite being the most ancient neighborhood of Rome, the Rione Monti is also one of the most characteristic areas of the modern city. From artsy bookstore cafés to artisan, vintage and designers shops, from restaurants to pizzarias and cafés…and not to mention gelato! You will love its tiny streets and little piazza where you could spend the day sipping on cappuccinos just watching the world flowing in front of you with a cinematographic background.
Distances from main sightseeing
Coliseum and Palatine – 800 meters/10 mins. walking
Pantheon – 15/20 mins. walking
Piazza Navona – 15/20 mins. walking
Trevi Fountain – 15/20 mins. walking
Spanish Steps 15/20 mins. walking
San Peter Basilica – Vatican City – 4km – 20 mins. by metro Line A.
How to reach us
Upon request we can arrange a shuttle service to pick up our guests at the airports.
From Airport (Fiumicino) to Central Train Station (Termini) – 35 minutes
The train Leonardo Express will take you in about 35mins from FCO Airport to the Central Train Station (Stazione Termini). The train runs every 30mins from 6.36am to 11.36pm, everyday. You can buy the tickets just before getting on the train (Cost: 14,00Euros per person).
From Central Train Station (Termini) to mok'house – (500 meters / 0,25 miles)
Walking (5mins): Exit the Station from Via Giolitti side (having the train lanes behind you, go to your left to exit the station). Once outside, go to your left and the first street on your right is Via Gioberti: take that! Walk through via Gioberti (300m) and you will reach Piazza Santa Maria Maggiore (you will definitely see the Basilica). Take the second left, Via Merulana just for 50m. Then, the second street on your right is Via San Martino ai Monti. Just walk down to the No.38 (on your left side): we are there waiting for you!
By Car
Approaching Rome from the Autostrada (=High Way), take the Ring (= Grande Raccordo Anulare), direction Fiumicino Aeroporto – Civitavecchia. Take exit No. 8 (Salaria) toward downtown and follow the directions for Rome Centro – Termini.